BurnSim
Solid Propellant Internal Ballistics Simulation
Research Rocket Motor design software



Home | Contact Us | Download | Activation | Purchase | Announcements | Tutorials | Back

Latest News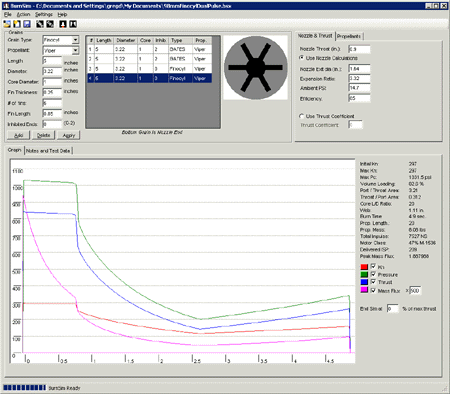 Be sure to subscribe for email announcements of new releases or like us on Facebook

1/30/2019 - Ok, obviously the BurnSim 4 announcement in 2015 was premature. :/ Life keeps intruding and I dont often have the time i want to put into BurnSim! Good news is a new release is getting close! The next update will include many bugfixes, some minor feature updates, and Metric Units! Stay tuned to Facebook and/or the announcements list, or keep an eye out here.
7/8/15 - BurnSim 4 is coming! Stay tuned on our announcements list or facebook for the latest updates.
2/2/11 - Run BurnSim on Linux under WINE!
Click here for more info.
1/30/11 - Version 3.1.8 released!
Click here for more info and to download free trial.
3/14/10 - Version 3.1.6 released!
Click here for more info and to download free trial.
What is BurnSim?
BurnSim is a solid rocket steady-state ballistic simulation software package for the Windows platform. In a nutshell, input your motor, nozzle and propellant characteristics and BurnSim calculates the Kn through the burn and predicts estimated chamber pressure and motor performance. Once your motor design is in BurnSim, you can tweak the parameters such as nozzle diameter or grain core diameter and instantly see how the Kn, chamber pressure, and motor thrust is affected. BurnSim will also optimize your nozzle design.
Motor designs in BurnSim can be saved and recalled for later use. In addition, test data can be imported and graphed alongside simulation data to compare sims to results. BurnSim allows you to make notes about your propellants and motor designs, all saved in one convenient location.
Once you're happy with the your motor design, BurnSim can then export a .ENG file for use in RockSim, wRasp or other rocket flight simulators. You may also export the data to a text file (comma delimited) for use in virtually any system. You can estimate your motor's performance and rocket's flight before you even cast a grain!
Features
Supports the following grain configurations in any number and combination:

BATES grains with 0-2 restricted ends
End burning grains (defined as BATES grain with zero diameter core)
Moon or Offset Core
D Grains
C-Slot
Finocyl
Star
X-Core

Different propellant types can be specified for each grain
Instantly see a graph of Kn, chamber pressure, thrust, and see how it changes when you change motor attributes.
Graph Mass Flux over the burn, a value that can be used to monitor erosive burning
Import test data and graph it along side simulations
Save your motor designs and propellant characteristics, as well as notes and imported test data
Export predicted motor performance into .csv files (comma delimited text files) for use Excel or any other program.
Thrust estimations based on nozzle geometry
Optimize your nozzle design for maximum performance.
Propellants can be defined with characterization data that changes over varied pressure ranges
---
Can't tell how ya much I've benfited from your new program. Did a lot of mixing the last 2 weeks (over 75 lbs), and every motor I designed with the aide of your BurnSim tool performed as predicted. On one flight I used your .eng import feature for Wrasp, and my predicted altitude of 6281' was off 3 feet per Adept! Ya got a winner there ole buddy, thanks for your hard work. As far as I'm concerned, I still owe ya one....

-Pat Gordzelik
President Tripoli Amarillo, L3CC, TAP
---
Future Features
Pressure drop (burnout or boost-sustain) transient simulation
Additional Grain types, requests?
Graphical grain iteration, allowing for any 2D grain shapes
3D grain burn simulation
Support for units other than English
Erosive burning predictions
Improved Printing of simulation data
Your suggestions!
Dont hesitate to contact me at BurnSim@blastzone.org with any bug reports, suggestions or anything at all.
PLEASE NOTE!
BurnSim estimates chamber pressure and performance assuming steady state operation. BurnSim (currently) does NOT take into account erosive burning effects which can significantly raise chamber pressures in motors with high L/D ratios. Test all motors in a safe environment, and always assume the motor can fail. Be prepared.
What does it cost?
A Personal license for BurnSim is only $39. The Personal license entitles one person's use of BurnSim version 3.0, up to 5 installations / reinstalls. For multiple users, volume discounts are available. Please contact us for details.
Please download BurnSim and try it out. Thank you for your support, license fees cover the costs of continued development and improvements to BurnSim.
License fees may be purchased with via Paypal, or with a credit card, or check / money order. Please go to the Secure Payment Page to purchase your license.
Where can I download BurnSim?
The download page is here
All contents copyright 2014
Hosted by The BlastZone